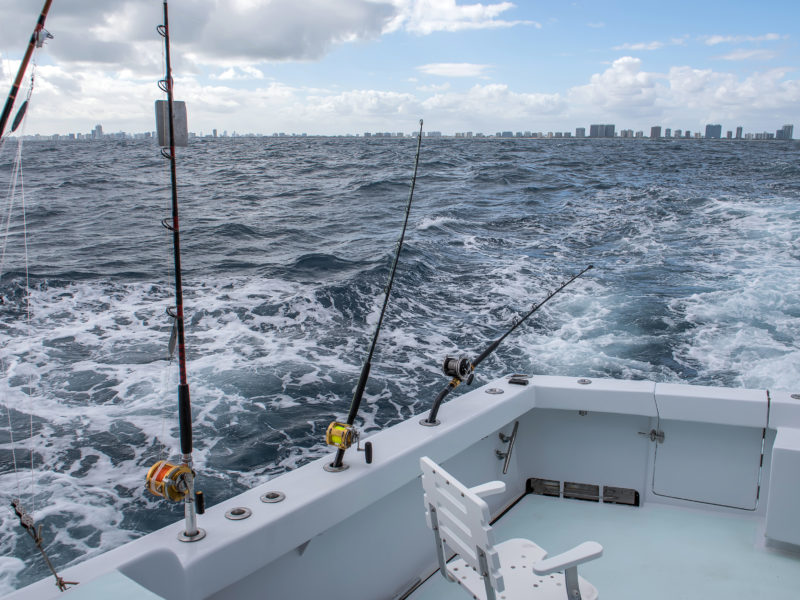 Sea Legs III is one of the most recommended activities when you are near Sunny Isles Beach. It is a family-owned business and it has been operated since 1969. Here you will be exposed to different fishing trips and you will have the opportunity to cook your catch while they clean it up and prepares for you. It is a fun activity and tourists find it very enjoyable and satisfying. It is not only adventurous and thrilling but also will give you experience and memories of a lifetime.
The fishing trip of sea legs III is operated at 5398, North Ocean Drive, Hollywood, Florida 33019, Miami Dade Country. It is operated whole through the week. Advance purchase of tickets is strongly recommended. However, you can book your trip at https://www.deepseafishingsealegs.com/drift-deep-sea-fishing.html and payment can be done through Visa, Master Card, American Express and Discover. Regarding booking, if you have any query you may drop a mail at https://www.deepseafishingsealegs.com/contact-us.html or you can directly call at (954) 923 2109.
Here, three types of trips are offered. They are:
Drift/ Deep Sea Fishing: Endeavor and enjoy the trip to deep sea and gain an experience of deep-sea fishing. This trip is being operated from 8.15 a.m. to 12.15 p.m. and from 1.45 p.m. to 5.45 p.m. Each trip is having a duration of 4 hours. On Monday, this trip remains closed. The fees are very reasonable and can cost up to 50 USD per adult. However, if you book online by using promo codes to save up to 5 USD. Children under 12 years must be accompanied by an adult at least and the fee may cost up to 35 USD per child. You may also choose to attend the trip and not to fish. In that case, you will be charged 35 USD. However, from the Sea Legs authority, you will get bait, rod, tackle, reel, fishing licenses and parking for your vehicles free. If you wish to bring your own fishing equipment you are welcome to bring but bringing your own equipment will not reduce the fee price. More so, they provide free cleaning services of your catch so that you can cook your catch easily. Early experience is not at all mandatory for this trip as an expert guide will accompany you whole through the trip. At least, ten passengers are required for this trip.
Night Anchor Trip: This trip starts from 7.15 p.m. and continues up to 12.15 a.m. This trip is operated every day of the week. The fees and other benefits, as well as services, are the same as described above for the drift/ deep sea fishing. During the 5 hour trip, the ship will anchor on a fertile reef and you will be able to fish from 60 feet to 400 feet of water. Here, you might catch big fishes, as well as many unfamiliar fishes as the water body is full of unknown species. During the night trip, you need not be afraid as well qualified and experienced guides will be instructing you so well. If you do not have any previous experience of fishing, it is not a problem. The expert guide will teach you about effective fishing techniques. Minimum 12 passengers are required for this trip.
Offshore Fishing: It is operated whole through the week but there are different charters or options. Such as:
½ Day package: This package is operated daily for 4 hours both in the morning and evening. It may cost or charge you 750 USD per person.
¾ day package: This package is operated daily for 6 hours and is charged 1,000 USD per person. This trip is ideal for Wahoo and MahiMahi fishing.
Full day package: This package is operated daily for 8 hours and is charged 1,250 USD per person. This trip is ideal for Wahoo and MahiMahi fishing.
However, during these trips, you will be offered air-conditioned cabins and onboard washrooms. More so, you will be offered to administer live bait. As during these trips ships are anchored into deep reefs therefore, the possibility of catching bigger fishes is higher and the bigger the fish, the more joyous to catch.
If you are planning to fish in a large group, there are soothing offers for you as well. Super sea legs offer you air-conditioned cabin, 2 X onboard washrooms, satellite television, and dining facilities. In the below decks about 14 passengers can sleep. In the case of a large number of people in a group, the Super Sea Legs offer two options.
Option 1: Large group fishing carters: where up to 40 passengers can be accommodated.
Option 2: Special Long Range Fishing Trips: It is offered for two and three days at the Florida Keys. They also offer Late night snapper trips where at least 15 passengers are required.
Other than trips, Super Sea legs allow parties or mass gatherings at their ships or at their premises but you have to take prior permission from the authority. Parties such as Holiday parties, birthday parties, corporate parties, school parties, funerals, church events, summer camps, etc. can be very much attractive and mesmerizing. For these occasions, Super Sea legs offer 2 types of charter.
Charter-A (4 hours on the day time and 5 hours at night): It is offered on each day of the week from 8.15 a.m. to 12.15 p.m.; 1.45 p.m. to 5.45 p.m. and 7.15 p.m. to 12.15 a.m.
Charter B (8 hours): It is offered each day of the week from 8.15 a.m. to 4.15 p.m.
General Do and Don'ts:
There is no fixed dress code for this. Anything you are comfortable with is allowed except for sandals. Please bring adequate sunblock and medicines in case you are prone to seasickness. You can bring foods and beverages if you desire but bottled beers are restricted onboard. For narcotics, contrabands and illegal drugs here is zero tolerance and are strictly prohibited as per U.S.C.G regulations. There are adequate life jackets but no dangerous stunts are allowed which may pose dangers. However, there is no fixed limit of catching fishes until you catch a lot of the same species. You can have the pleasure to cook your catch but you are not permitted to sell it. Generally, boats go to approximate 5 miles off-shore and strict precautions are taken against foul weather. Usually, the schedules are strictly maintained but it may differ during the national holidays and special occasions.
Fishing at Super Sea Legs is extremely satisfying and worthy. Visitors and tourists have highly recommended this activity to put under the to-do list. Fishing here will always be more enjoyable than anywhere in the world. Super sea legs are famous for their excellent service, justified price and their commitment to bring joy to their guests. So plan ahead and spend a day at the Super Sea Legs to enrich your fishing experiences.