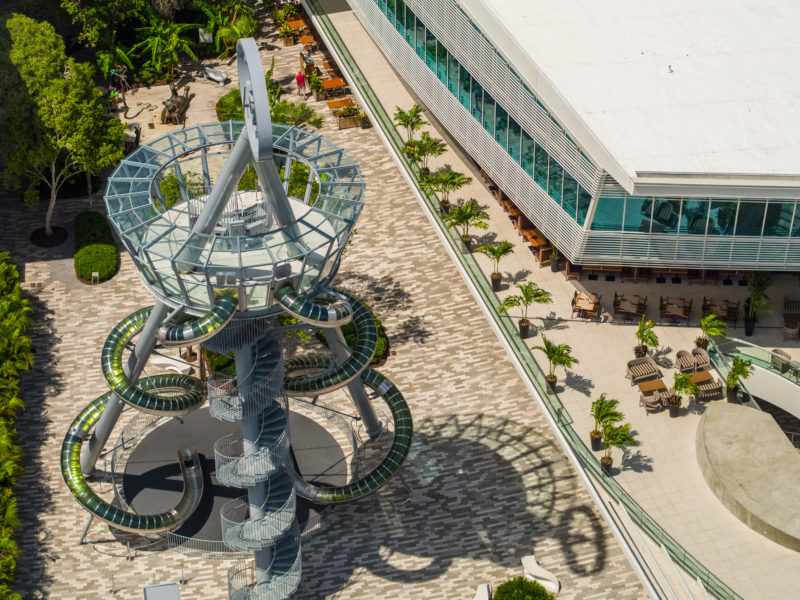 Dear shop lovers and trendy tourists, rush to your car, buckle up and set your course and route to Biscayne Boulevard road as Miami Dade Country offers you to feast your eyes to the most trendy, exquisite and modish collection of Miami, Florida at Aventura Mall. It is the best place to shop if you want to purchase genuine branded items, top trend collection, luxurious and extremely rare collections.
The Aventura shopping mall is located at 19501 Biscayne Boulevard, Aventura, FL 33180, Miami, Florida. It is located between Mount Sinai Medical Center at Aventura and Gateway Plaza. It is a three-storied shopping mall having a floor span of 28,00,000 square feet or 2,60,000 square meter which makes it the no 16th largest shopping mall in terms of retail space within the United States of America. Moreover, it is the largest shopping mall in Florida. The renowned mall was developed by Oxford Development Company and Edward J. DeBartolo Corporation and was inaugurated on 29th April 1983. Currently, the mall is jointly owned and operated by Simon Property Group and Turnberry Associates.
Generally, the shopping mall remains open from Monday to Saturday from 10 a.m. to 9.30 p.m. On Sunday it opens at 12 o'clock at noon and closes at 8 p.m. However, due to special occasions and national holidays, the schedules may differ a bit. Again, during black Fridays, it remains open for a longer time. So it is suggestible that to plan ahead and regarding any inquiry, you can take the aid of the website (https://aventuramall.com/) and phone number +1 305 – 935 – 1110. However, an Aventura Mall app is also available on the Google Play Store and Apple Store. The mall has a big space for parking which is capable to accommodate around 9800 vehicles. It also offers valet parking as well.

The Aventura Mall center is housing over 300 luxury boutique shops. Along with that it also offers the tourists to explore a lot of reputed, most popular and top-rated brand shops.

You can find Adidas, H & M, JC penny, Burberry, Gucci, Cartier, Givenchy, Anthropologie, MCM, Sephora, Zara, Macy's, TopshopTopman, Nordstrom, Bloomingdale's, Abercrombie & Fitch, Aldo, Aerie, Banana Republic, Hugo Boss, Calvin Klein, Diesel, Fossil, GAP, Lacoste, Levi's and a lot more.

You also can find your exclusive and luxurious cosmetics, jewelry, bags, and makeup items at Victoria's Secret, MAC, Louis Vuitton, Swarovski, Scarf Me, Red Valentino, Kay Jewelers, Pink, Mia, Claire's, Camilla, Bath & Body Works, Anne Fontaine, etc.

Gadget and accessories lovers can choose their favorite brand's recent edition of sunglasses, watches and other fashionable items at Garmin, American Eagle, Cigar Box, Longines, Mont Blanc, Oakley, Omega, Prada, Steve Madden, Tagheuer, sunglass hut, Ray-Ban, Prada, Porche Design, Swatch and so many more. Grooming accessories can be found at The Art of Shaving.

To facilitate you with kids shopping a few shops are there where it is only dedicated to kid's clothing such as Abercrombie Kids, Action Kids, Baby Cottons, Baby GAP, Kids Atelier, Kids Foot Locker, Journey, Nini & Loli, etc. Generally, all the kids love the Disney store a lot.

A lot of reputed perfumes brands are also available here from where you can collect your favorite editions of different branded perfumes such as Chanel, Hugo Boss, Ralph Lauren, Cartier, Calvin Klein, etc.

Authorized Apple store or i–store is available here. It also has a showroom of Bose and AT & T. Pet lovers can shop harnesses, leash, collars, and pet foods at Bonefly.

There are also a few alcohol and breweries shops where you can buy your favorite drinks.
Not only shopping, but Aventura Mall also offers the tourists to enjoy various dishes as it presents more than 50 eatery shops. It is a heaven for food lovers. Shoppers and tourists find it very compelling to fill up their stomach while taking a break from shopping. Aventura Mall never left its visitor in despair. Italian, Mexican, Chinese, Cuban, Arabic, Asian, Caribbean, local and so many types of dishes will amaze you with their taste and dazzle you with deliciousness. It is the best food court in Miami Dade Country with so many varieties and few must-try dishes are mushroom veal chops, spaghetti, meatballs, seafood such as oyster, crabs, octopus and lobsters, salmon, filet mignon, fajitas, pork fillet, lamb chops, calamari, salads, sashimi, kosher, etc. Various pizza flavors are also offered to appetite pizza lovers. Coffee lovers find themselves tasting different types/ origins of coffee and continue shopping afresh.
Aventura Mall is far beyond a shopping destination and a food court. It also lets you explore its enjoyable amenities. Visitors love to enjoy an Art Walk where around 20 astounding art pieces are displayed. These are not ordinary art pieces. They were designed by most renowned artists and each of them is glamorous. Often tourists take a guide to get all the details of them. A lot of things you will find where you will feel delighted to take a picture such as the 'Love' sculpture. There is also a starling whimsical fountain titled as 'Gorillas in the Mist'. Visitors are often seen to get a splash in the hot days of Miami. Taking a slide in the Slide Tower is the most fun-loving thing. The Slide Tower is not only an architectural beauty and a well-known landmark but also offers visitors and tourists to enjoy a fascinating slide at the tunnel of Slide Towers. Also, at the top terrace of the mall, there are scopes to play mesmerizing games and sports which aids as a stress reliever of the visitors. Book lovers can rush to the library to buy books according to their booklists. The mall offers a 2 mile long walking tour inside the mall on Monday, Wednesday and Friday. A little registration at the Bloomingdale's is required for the fitness walk. Pet lovers can endeavor to adopt a pet from Wednesday to Sunday from 2 p.m. to 5 p.m at the lower level of the mall. Music artists, as well as the orchestra, perform mind-boggling music which will amuse you and you will not be able to skip it after hearing a bit. Sometimes, concerts are also arranged as well. AMC 24 displays most recent released movies at its theatre as well as they offer praiseworthy services. Visitors enjoy watching their favorite stars while enjoying popcorn,
candy, soda, and cold drinks. They also offer different types of reclining seats which visitors enjoy a lot.
Aventura Mall is not only a shopper's hub, but it's also a lifestyle. It is the glamour and charm of Miami. Here, visitors are adorned and are returned with memories and joyfulness. So, plan ahead and spend a day at the Aventura Mall, rejoice your mind with the happenings and keep coming again and again.