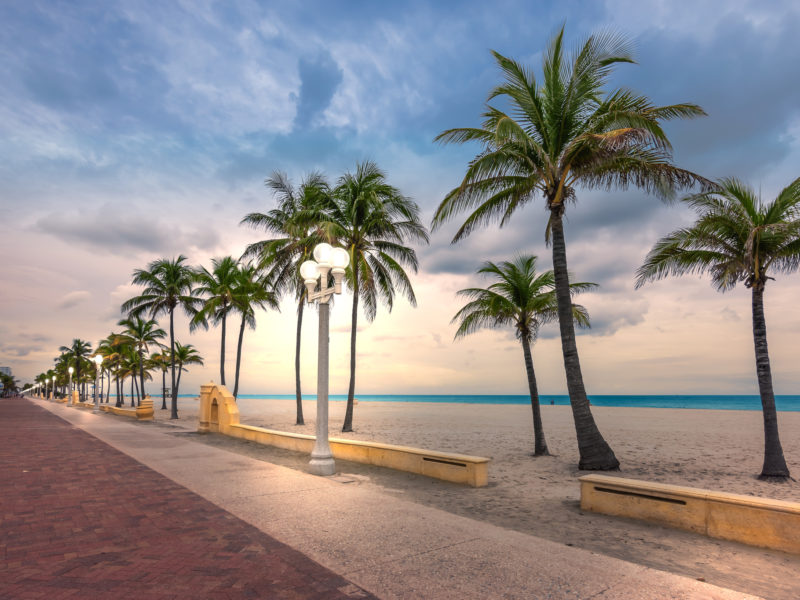 When it comes to experiencing the essence of the perfect beach day and local culture, the Hollywood Beach Broadwalk stands out as a highlighted Miami must visit.
Stretching along the coast of Hollywood Beach, Miami Beach, Florida, this walkway is a combination of relaxation, entertainment, and outdoor activities. With a length of over two miles (approximately 3 km), this promenade offers a combination of stunning beachfront views. Delicious dining options on the Florida coastline and local shops adorn the broadwalk, making it an unmissable tourist attraction.
The heart of the Hollywood Beach Broadwalk experience is the beach. Soft sands, waves, and the horizon create the perfect environment for beach lovers seeking tranquility and recreation. The beach offers sports options, relaxation for those looking to unwind, and tourist attractions. Families, friends, and travelers can enjoy the pleasures of sun-filled days and a refreshing ocean dip along Miami Beach's Atlantic coast, complemented by cultural strolls and local gastronomy.
The strategic location of the Broadwalk allows you to admire the coastal beauty while observing people and soaking in the atmosphere. Whether capturing memorable photographs or witnessing a fascinating sunrise or sunset, the Hollywood Beach Broadwalk is the perfect tourist landmark for a beautiful natural experience.
Food enthusiasts will find a culinary paradise on the Hollywood Beach Broadwalk. Imagine savoring the diverse gastronomic options; from local beachside cafes serving fresh seafood and tropical delights to gourmet restaurants offering international cuisines, the Broadwalk engages all our senses.

It's also bike-friendly! Perfect for tourists seeking a cycling excursion and combining a scenic seaside dining or just the perfect outing along the coastal pathway, immersing themselves in the atmosphere of Hollywood Beach. As you take a moment to relax, stroll along the panoramic views of the Atlantic Ocean enjoying local culture.
Regular events and activities add to the mix, making the visit even more entertaining.
Concerts, festivals, and cultural events often adorn the Broadwalk.
In essence, the Hollywood Beach Broadwalk is the ideal beach and city getaway. With its blend of offerings, it's a promising destination to make an unforgettable experience for all seeking to tour and enjoy to the fullest of coastal tourism in Miami Beach. From morning walks to lively evenings, the Hollywood Beach Coastal Pathway offers enjoyment for visitors of all ages.