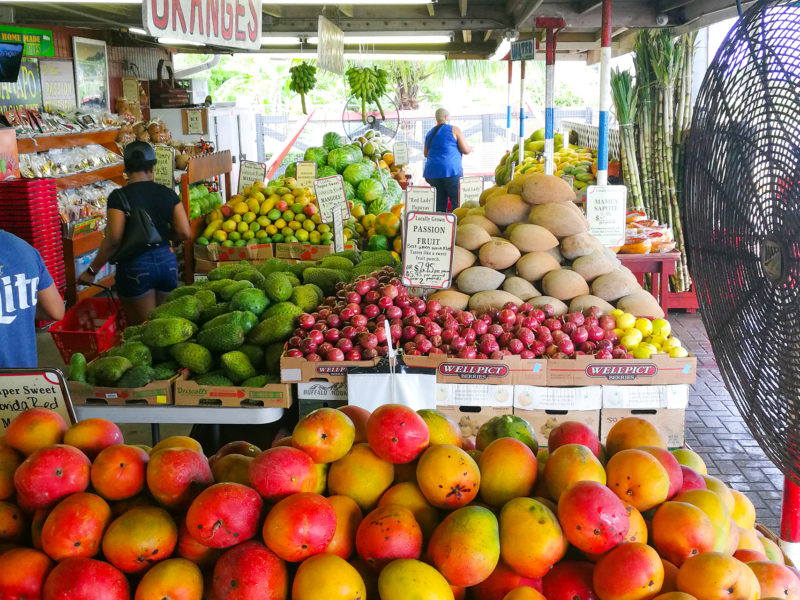 Miami, South Florida offers different remarkable things to the tourists and the inhabitants of this land. It has various famous and world-class restaurants, bars and many more. Now we are going to talk about a world-famous place which is well known as Robert Is Here Fruit Stand. The shop provides almost all types of fresh fruits to the people of Miami and also to the tourists of this place. Some fruits are grown on their farm as well. If you are lucky enough you will be able to witness some items that you have never seen before.
The history behind the name
The mind-blowing story is about a little boy of six years old who wanted to help his father by selling the produce from their family farm. As he was a little boy, his father wrote hurriedly the words "Rober Is Here" and fixed them on aside. On that day, the little boy sold everything by noon. From this day in 1959, an entrepreneur was born and Robert is still doing the business though it has now become bigger than the previous one. Till now Robert is found on his fruit stand most of the day. The story amazes all though not every tourist or newcomer of this area knows the story.
Additionally, the whole family is now involved in the business with Robert and also with few employees.
Location and time
It is around a 40 munites drive from the Miami International Airport to the southern part of the city. You will need to go outside of the large buildings and office area for being there. The exact location is 19200 SW 344th St, Homestead, Florida 33034, United States. The shop opens daily at 8 am and runs till 7 pm. But on Christmas eve and the Christmas day the timing may vary. Moreover, the best time to visit the place is before sunset. You can visit their website by clicking here.
Different fruits that are found here
To describe the 'Robert Is Here Fruit Stand' it is said that the shop is full of tropical fruits. You will get almost all types of fruit there.
You will get Asian Guava, Avocado, coconut, Guanabana, key lime, jackfruit, mango, passion fruit, sugar cane, tamarind, papaya, banana, watermelon, dragonfruit, apple, and many more seasonal fruits.
Guanabana is like jackfruit but easy to peel off the outer shell, unlike jackfruit. There are small seeds inside it also.
Dragonfruit is now popular among the people. The outer shell is reddish-pink and the main fruit is whitish-pink with black tiny seeds. It is easy to eat when you cut it into two pieces and use a spoon.
Processed Fruit Items
Other than the fresh fruits, the shop provides processed fruit items. You will find dried fruits there. For example, you can get dry coconut inner part, dried jackfruit and many more.
On the other hand, you can get jam, jelly, pickles made from fruit items. Different types of sauce, oil, salsa, honey and a lot more items of different fruits. All the products they provide are nicely packed. You will get amazed while inside the shop.

Things other than fruit
Robert Is Here Fruit Stand has introduced different types of smoothies and milkshakes to its customers. They spend hours in the morning to cut fresh fruits for making smoothies and milkshakes for their customers. After getting any order, they just put the fruits in a blender and provide the shake in a plastic glass. Additionally, you can mix up to three flavors of fruits together according to your choice.
Moreover, you will get different flavors like banana, blackberry, cherry, coconut, chocolate, key lime, orange, papaya, passionfruit, pineapple, strawberry, and tamarind. On a special menu, you will get black sapote, blueberry, dragonfruit, canistel, coffee, guava, jackfruit, mamey, mango, and sapodilla.
You can also get guanabana and sugar apple on the season and it's called the premium shake. Moreover, you can get fresh sugarcane juice from there.
Entertainment for children
For the children who are not interested in fruits and buying fruit items, there is a small zoo with farm animals and few birds to entertain the children.
The 'Robert Is Here Fruit Stand' is a nice place for a family gathering for the locals as well as the tourists of Miami. While passing through the place people can have a break there and get some fresh fruit and processed items. Friends can spend some good time away from the chaos of the city and gossip about different topics while having smoothies and fresh fruits.
Sometimes there is live music goes on which doubles the enjoyment of the visitors of the place.
Conclusion
While passing the shop you can take some fruit to eat during your travel or take some for having in the hotel room later. Other than these, you can take processed fruit items for gifts and for yourself as well. You will find a few items which you never witnessed before. So it is a must-visit place and a place to remember while in Miami.