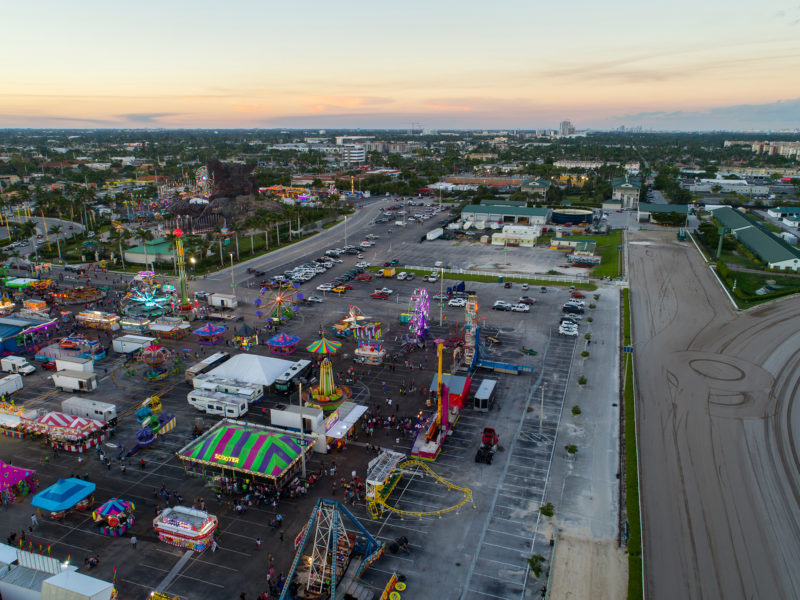 Dear passionate race lovers, sit tight and rush to the Hallandale Beach as Miami Dade County proudly offers its tourists and visitors to get thrilled and exhilarated by the fascinated races of Gulfstream Park. Gulfstream Park is famous for the stakes races that the park holds each year but more than that, it is one of the most important venues for horse racing in the United States. Other than racing, it also facilitates concerts and few festive events. Furthermore, it is one of the county approved Casinos in the Miami Dade County.
Gulfstream Park was opened in the year of 1939. By the year of 1944, the racing track was prepared and declared open. Since then the park has been playing a vital role in the field of horse racing of the United States. In 1946, the park ran its first Gulfstream Park Handicap. Following that, Florida Derby took place in the year of 1952 and the park started to expand to facilitate its visitors and guests. The park also ran turf racing in 1959. The race track is a dirt course of a circumference of 1 and 1/8th miles but it is adjustable and shrinkable according to the race requirements. This track can accommodate 16,627 people at a time.
Florida Derby is the most regular horse racing event of Gulfstream Park. It arranges thoroughbred or flat racing races and the Florida Derby is generally staged at the end of March or the beginning of April of each year. Since 2017, the Gulfstream Park is the regular venue of the Pegasus World Cup. It also arranges flat racing races and has been contributing a lot to the horse racing culture of the United States. The Pegasus World Club exposes world-class horse racing and within short 3 years, it has achieved huge attention in the world. To book your reservations and clarify any query you can call at 954.457.6201.

Other than featuring horse races, Gulfstream Park is widely known as the hottest casino club in Florida. Surely, it will give you a vibe of Las Vegas. The casino offers 64 high limit slot games, 20 live-action poker tables and more than 700 slot machines resemblance to the attributes of ones in Las Vegas. They also provide bus drop services from Monday to Friday from 10 a.m. to 5 p.m. To avail of the service please put your requisition at https://gulfstreamparkcasino.com/bus-program. Regarding any clarification about the casino, you may also contact at (954)454 – 7000. Here, you will be offered free Wi-Fi, Free drinks during your play and you can watch as well as put wager on horse racings as well. In the casino, you will be exposed to the following events.
Slots: Slots are operated from 9 a.m. to 3 a.m. from Sunday to Thursday. During Friday, Saturday and other holidays it runs for 24 hours. Slots are available at

Fresh Line Casinos: Located on the 1st floor where you can also enjoy poker and deli.
Pearls Casino: Located on the 2nd floor where you can avail slots, promotions, live entertainment and you will also have access to the bar.

Poker Tables: Fresh Line Casino on the 1st floor offers you 20 live-action tables where you can try out your luck from 10 a.m. to 4 a.m. during Sunday to Thursday and 24 hours on Fridays, Saturday and other holidays. Here, unlike slots, you will be offered tableside massages as well.
Gulfstream Park is way beyond a horse racing track. It also offers a good number of amenities and entertaining events such as:
Plugin Karaoke: Here you will be exposed to around 35,000 song tracks to sing with the karaoke. Do not feel shy to sing even if you cannot sing as there are 18 private karaoke rooms where you can sing without any disturbance. Moreover, you can avail of in-room dining and bar services. You can also check vegetarian and Gluten-free options and kids menu for your kids if they do not prefer the other menus. Beers, cocktails, wines, etc. are also available here. For early reservation, you can call at 1-844-475-8446 or you can login to www.pluginkaraoke.com. The plugin karaoke is open at the following schedules:
Tuesday to Thursday: 6 p.m. to 12 a.m.
Friday: 4 p.m. to 2 a.m.
Saturday: 11 a.m. to 2 a.m.
Sunday: 11 a.m. to 12 a.m.
Monday: closed unless any private event is reserved.
Bowling at Strike 10: At strike 10, you will be exposed to numerous professional bowling lanes and two bowling lanes for kids. Moreover, you can also choose to play air hockey or pool. An arcade room and a 50 feet bar are also available where you can dine and drink as much as you can. You can book your reservation at https://strike10bowling.pcsparty.com/bookings/index.asp. However, Strike 10 remains open on the following schedules:
Monday to Thursday: 4 p.m. to 2 a.m.
Friday: 2 p.m. to2 a.m.
Saturday to Sunday: 12 p.m. to 2 a.m.
Plan a Program: Many people select Gulfstream Park when they want to plan and host a program. Due to its exquisite beauty and wondrous sightseeing destination, many wedding parties, as well as anniversaries are held here. Corporate meetings, company events, and family celebrations are also entertained here. This venue can be availed both day and night. With an area of 10,000 square feet, the elegant Sport of King theatre can accommodate up to 1000 guests at a time. DJ parties and concerts are also arranged here. To plan your party at Gulfstream Park you have to have a prior booking. For booking your schedule you can call at 954.457.6957 or mail at Ray.Briels@gulfstreampark.com.
Shopping: Gulfstream Park also provides shopping facilities for its visitors and tourists. You can shop for trendy fashion wears, house furnishings, housewares, etc. Here you can also avail beauty salon, spa, health and beauty care items, and body fitness accessories as well. The art shops and souvenir shops will get you dazzled with their astounding art pieces and handy souvenir takes away. You can also get your car washed at Derby's Hand Car Wash.
Pegasus Park: In the year 2014 a 110 feet bronze statue was started to construct following a declaration to expand the area of the Gulfstream Park. In 2016, construction of the statue was completed and was declared as a landmark as well as a pride of Florida. The statue symbolizes as a Pegasus killing a Dragon. It is the third-largest statue of the United States and also the largest equine as well as the European Dragon statue. Today, Gulfstream Park is treated as an amusement park as many visitors and tourists come to see the astoundingly exquisite statue.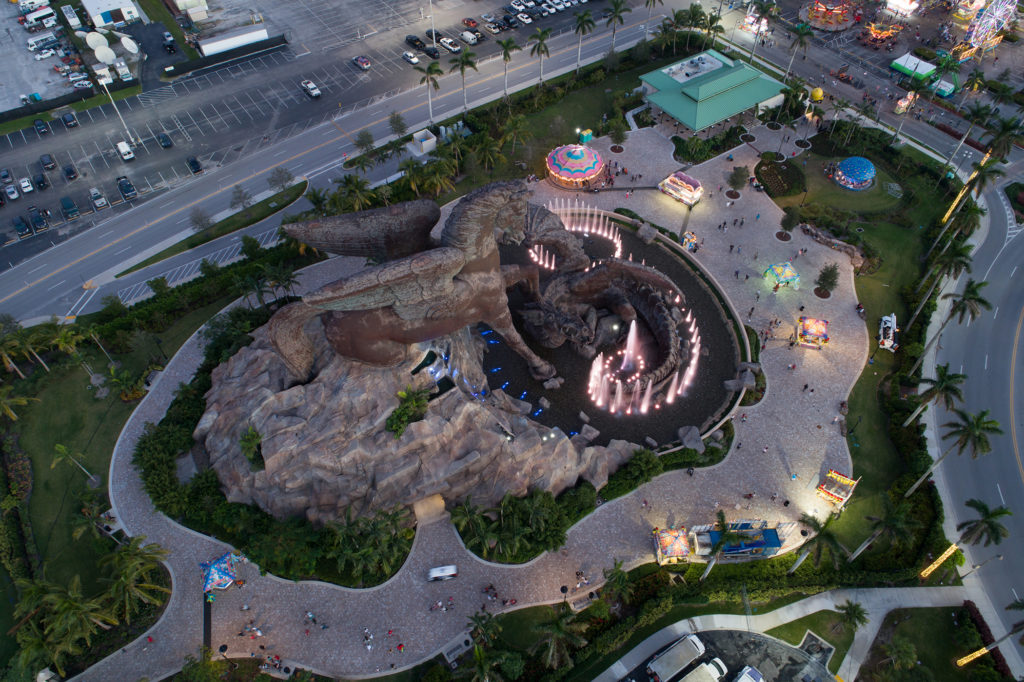 Dining: Gulfstream Park features more than 20 eateries, restaurants, food shops, and bars to entertain its guests and visitors with delicious and appetizing dishes. Each one of the food shops is best in different aspects. American, Cuban, Japanese, Chinese, Puerto Rican, Italian and many more country's signature dishes are served here. Flamingo Room and Ten Palms are the most favorite. You can dine breakfast; lunch and dinner or take light snacks, take brunch or even plan parties at these restaurants and food shops. Seafood dishes are also available here.
Gulfstream Park is full of activities and amusements. Plan a day here in the midst of your travel schedule and make a memory of your lifetime. It is full of amenities and surely will bid you bye with a lot of pleasure in your mind. It is a must-visit place and highly recommended place for tourists to provide with the taste of Miami Dade County.