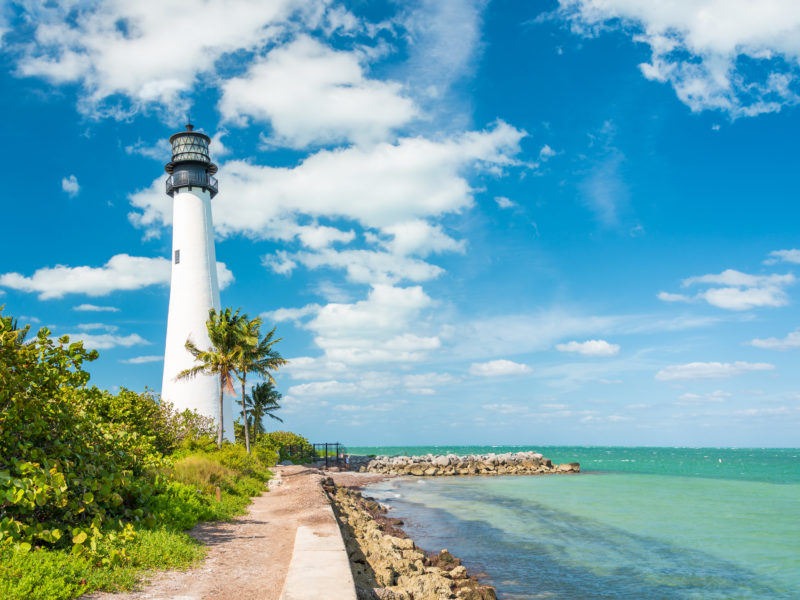 Key Biscayne is a small island of the Atlantic Ocean and Biscayne Bay enriched with scenic beauty and gorgeous beaches. This small island is sandwiched between Crandon Park and Cape Florida State Park which are located in the North and Southside of the island consecutively. These are the major two parks of Key Biscayne.
A Small idea about the land, people and their life
Around 13000 people live on a small island which is around 1.4 square miles. As it is low land, this area is evacuated first when there is any occurrence of a hurricane. People of this island have good educational facilities and The Islander News is the only newspaper in Florida that covers all the events of key Biscayne Island exclusively.
Earlier this area was well known for coconut plantation but as the days go by it has become a famous tourist destination among the people all over the world. Key Biscayne is around 13 minutes drive from the Miami downtown which is connected through the Rickenbacker Causeway with the main city. The Rickenbacker Causeway was inaugurated in 1947 which made transportation easier from Miami to Key Biscayne. The distance is about 7.4 miles from Miami city and it is easier to go from Downtown Miami.
The beaches of Key Biscayne
It is mostly a natural island having beautiful beaches. Some of the famous beaches of Key Biscayne are
Bill Baggs Cape Florida State Park
Crandon Park beach
Virginia Key Beach
Hobie Beach/ Windsurfer beach causeway
Bill Baggs Cape Florida State Park: With a beautiful view where the sun meets the ocean, this beach is located at the south end of the Key Biscayne. This Cape Florida State Park beach contains the oldest historic lighthouse from where you can get the most amazing view of the Island. To reach there you have to count 109 steps to enjoy the beauty. Moreover, you can chill under the umbrella sitting on a chair in front of the ocean which is provided in rent. On the other hand, you can enjoy swimming on the crystal clear water of the sea. Additionally, you can pass some time of the day through fishing and many more activities. It is described as one of the top beaches of South Florid.
Crandon Park Beach: Crandon Park Beach is one of the heavenly beaches located on the north side of the Key Biscayne. The length of this beach is about two miles which offers a lot of activities through which one can pass their whole day with lots of enjoyment. The beach contains a golf course, tennis court, volleyball court, bike trails, roller skating area, and a playground. You can find peacocks roaming around the park which will leave you amazed.
Virginia Key Beach: If you want a quiet place to relax and spend quality time in a noiseless beach away from the town, the Virginia key beach is the best choice for you. It is enriched with crystal clear blue water and the most beautiful view of the Biscayne Bay. Moreover, you can walk along the boardwalk and have a bike ride if you want.
Hobie Beach/ Windsurfer Beach Causeway: This beach is one of the closest beaches from Miami Downtown which is dog-friendly. Pet lovers, especially dog lovers can go with their pets on that beach and enjoy some beautiful moments there. It is just on the other side of the Causeway where the Key Biscayne Island is located. To visit this beach you do not need to pay for parking.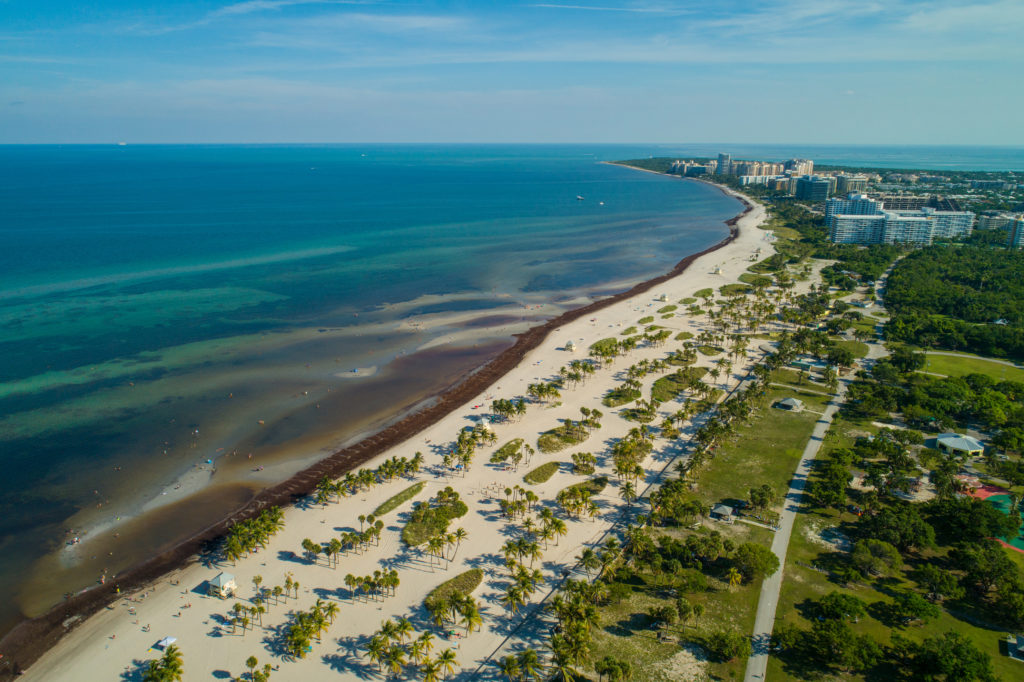 Things to do in Key Biscayne Island
Though this is a small island, you will be able to do a variety of outdoor activities which will make your day a memorable one. This quite place offers activities such as
First of all, you can visit the Key Biscayne beaches. Though it is a small Island, it offers amazing beaches to spend your holidays.
Secondly, you can visit the historic oldest lighthouse which is located at the Bill Baggs Cape Florida State Park.
Thirdly, Key Biscayne is a bike-friendly place where you can go for biking in its 1.5-mile bike trail.
Moreover, you can enjoy kite-boarding, paddle boating, and kayaking.
Additionally, you can play golf, volleyball, tennis in specific places on the Island.
You can also do fishing, swimming and have a picnic with your family and friends.
You can also do snorkeling which will give the experience of exploring the underwater things insider the crystal clear water.
On the other hand, you can visit the overwater bungalows and take some beautiful snaps covering the beauty of the bungalows with the Biscayne Bay.
You can also take a moonlight canoe trip of 150 minutes to explore the nightlife.
Lastly, you can visit the Key Biscayne Visitors center which is open 24/7 throughout the year.
What to and where to eat
You will find a few but good quality restaurants in the key Biscayne Island.
Rusty Pelican: It is a seaside restaurant offering the best quality Sunday brunch in Key Biscayne. You will find almost all types of Americans, local seafood and many more. At the same time, you will be able to see the sunset from there with the beauty of Biscayne Bay.
Costa Med: It offers a Mediterranean-inspired food menu and uses sweet bread as an appetizer.
Boaster's Grill: It is a restaurant in Bill Baggs Cape Florida State Park which offers a different type of fish menu to its customers.
Lighthouse Café: You can also visit the lighthouse café for some snacks which is located inside the Bill Baggs Cape Florida State Park.
You can go to the Donut Gallery which is famous in Key Biscayne Island.
How to get there
You can go there by bus which is 13 minutes nonstop drive from downtown Miami. The nearest airport of Key Biscayne is the Miami International Airport. Others are a little bit far from Downtown Miami. The Rickenbacker Causeway charges a toll of $1.75 for the regular vehicles and the process to pay the toll is electronic.
What to know before going and passing a night
While leaving for the Key Biscayne you must know about that day's weather forecast to have an idea about the weather. On the other hand, if you decide to pass a night on that beautiful Island you must know it because this is a low land which is affected most during a hurricane or other natural calamities.