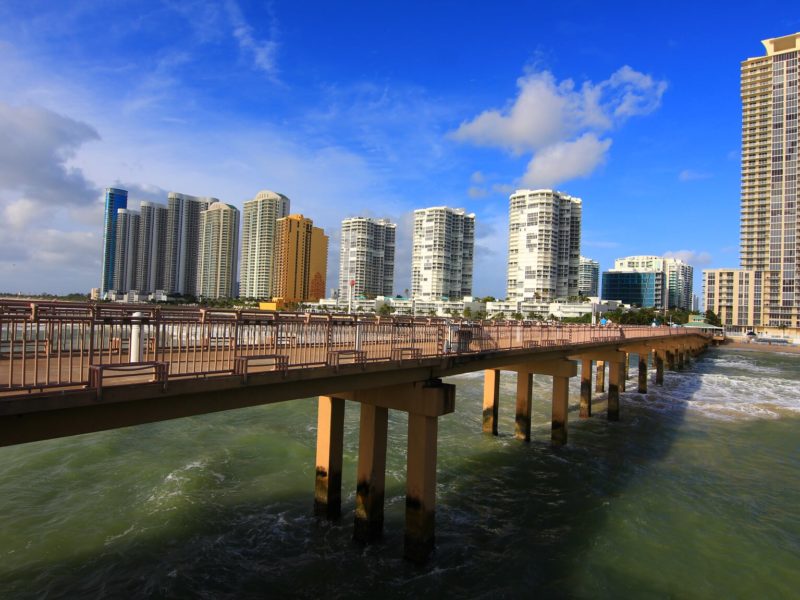 Pier Sunny Isles is an iconic and one of the reputed landmarks of the Sunny Isles Beach as well as of Miami Dade Country. It is also known as the Newport Fishing Pier. The Pier Sunny Isles is at the ocean, specifically at the boulevard of Sunny Isles Beach and Collins Avenue. It is located at 16501; Collins Ave, Sunny Isles Beach, FL 33160, Miami Dade Country. The pier is unique in the sense that it offers you to go half a mile inside the ocean.
A long history is associated with the emergence of the Newport Pier. The history backs at the year of 1936 when the Newport Pier was decided to build as a tourist attraction. Afterward, the Miami Beach Fishing Company built the 800-foot long pier which succeeded to catch the glimpse of the visitors and tourists. Visitors were amazed and attracted to the beauty of the pier as well as to the Sunny Isles Beach. Also, it managed to develop a scope of livelihood for the local fishermen. Though the half-mile long pier was on the verge of being demolished by the year 1980 due to having been considered as unsafe, it coped up with the odds with the help of Newport Beachside Hotel and Resort and managed to be declared as a historic site by 1982. It was renovated in the year of 1986 and also the name was changed to Newport Pier. In the year 2007 – 2010 the pier was restored following damage inflicted by Hurricane Wilma and it was finally demolished in 2012 in order to build a new one which is standing till now and has owned its recognition as a landmark of Sunny Isles Beach.

The Newport Pier is open to the public and remains open 24 X 7. However, regular maintenance works take place on Mondays and Thursdays from 08 a.m. to 10 a.m. At this time, entrance is prohibited for all. The Miami Dade Country Authority permits tourists for swimming, walking, fishing and cycling at the Newport Pier. Restrooms with shower facilities are also available here to facilitate swimmers and surfers. Qualified lifeguard personnel with sufficient safety equipment are deployed at the Lifeguard Station to assist and save in case of any emergency requirement of swimmers and surfers during operational hours. The fishing pier is available for those who want the best catch. Bike loves do cycling here as it is a very ideal place for cycling and health exercises. Moreover, bike racks are available to facilitate the tourists to park their bikes. The scenic beauty of the Sunny Isles Beach and magnificent atmosphere will encourage you to spend hours at the pier. There are also sitting benches where you can amaze at the beauty of nature while seeing the sunrise or sunsets. Such sunset with a cocktail in hand is priceless and worthless. Many times people find it ideal for picnic or family gatherings. In such cases, you just have to seek permission well ahead from the Cultural & Community Services Department.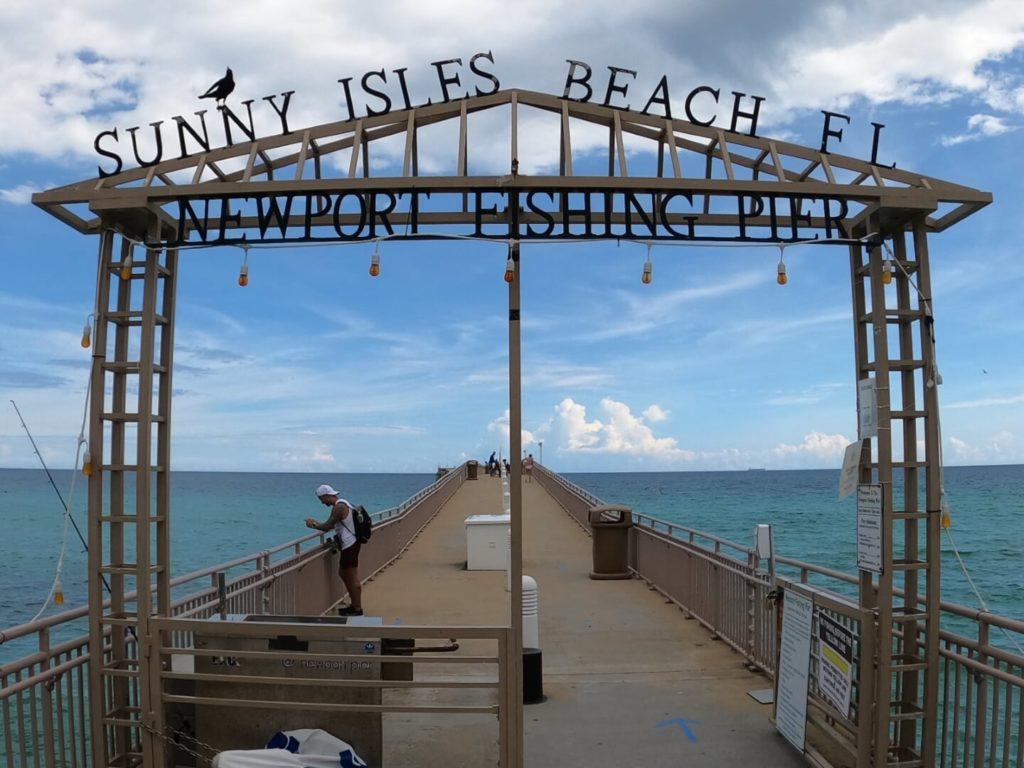 The fee of fishing at the Newport Pier for the tourists is 5 USD per person. If you have valid Sunny Isles Beach resident identity card, then your fee to fish at the pier will be 2 USD. Moreover, for such an identity card holder, beach access is free unless he wishes to go fishing.
For non-resident per person admission to the pier without fishing is 2 USD. Along with the 24 X 7 access to the pier, it also offers parking spaces for 24 X 7. Metered public parking is available here including 4 spaces for handicap persons, 2 spaces for official use and 23 unrestricted spaces. There is a little or no crowd found in the Newport Pier. It is a very safe place even at night and you can find tourists enjoying at any time of the night. A walk with your partner in the starry and moonlit night will entertain you in a fabulous way.
There is a restaurant named Beach Bar Restaurant in the Newport Pier. Simultaneously with the inauguration of renovated Newport Pier, this restaurant started to serve the tourists of Sunny Isles beach with a lot of appetizing and delicious dishes. A good number of signature dishes are offered here. Seafood is very fresh here and very much appealing. You can taste scrumptious sushi, oysters and clams. Stone crab chowder and lobster bisque are famous here. As of the salad items you can find here caesar, iceberg wedge, caprese, jumbo sea scallop, and spinach salad. Florida citrus and crab cobb salad is a must-try menu. While selecting starters you can choose smoked fish dip, fried or bbq chicken wings, Lollipop lamb chops, oyster rockfeller, buffalo shrimp, ceviche, crispy calamari, etc. A wide variety of sandwiches are also available here. Beach bar Cuban and MahiMahi Tacos will compel you to take again and again. As of the main dishes, you can try out beef fillet, grilled strip steak, Maryland crab cakes, shrimp scampi, boneless chicken and pork ribs, etc. You may also try out the famous Honey Dijon salmon of this restaurant. Among the desserts, fried ice cream, key lime cheesecake, carrot cake, and triple-layer chocolate cakes are the favorite ones.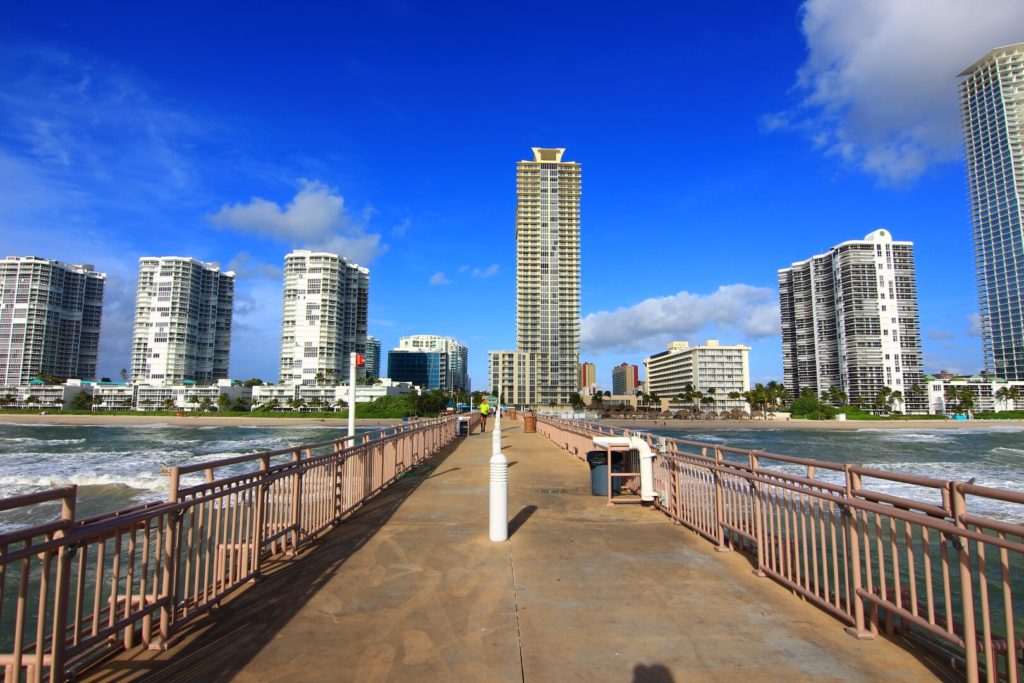 Newport Pier or Pier Sunny Isles continues to amaze tourists through its beauty, dazzles and entertains them with charming events and activities and offers mouthwatering seafood dishes. Spending an hour or two will give you a mood of freshness and serenity. It is a must-visit place for tourists and is a highly recommended place for young couples. Children find it amusing and playful. You can be assured of quality time here and the memories will continuously charm you to keep coming.