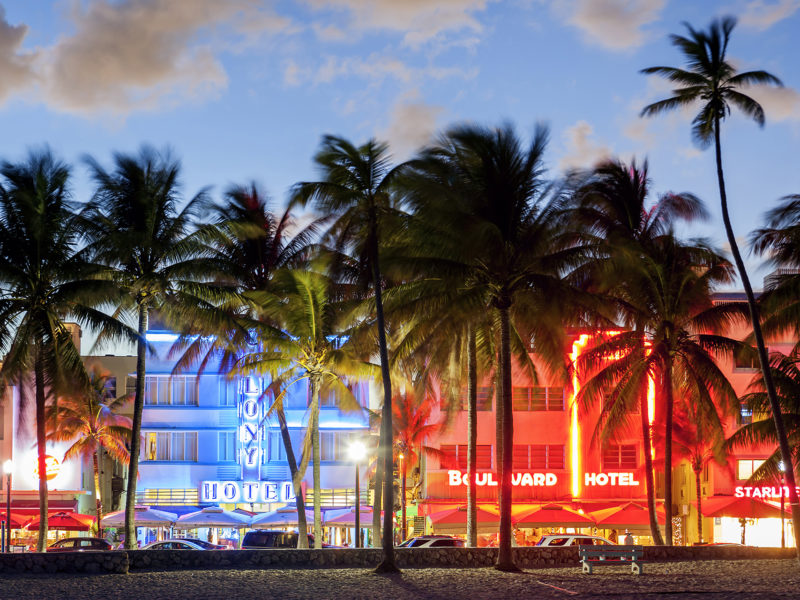 Ocean drive is the most exemplary street of Miami Beach which is popularly known as the Miami beach strip. It is prominent for its historic art deco buildings and nearby tourist destination to the visitors of Miami. No visit to Miami is fulfilled without a visit to the 2.1 kilometers long ocean drive. A proper guideline for exploring the Ocean Drive is elaborated /discussed here to provide a concise and clear idea to the visitors' everything about the ocean drive.
Location
To determine the exact location of the Ocean Drive it can be said that it is stretched from 1st street to 15th street which connects south beach in the north end and the south pointe drive in the south end. It is well adjacent to Lincoln Road which is only a few minutes distance from Ocean Drive.
A short history of Ocean Drive
The charming street was opened officially in 1915 and developed disgustingly in between the 1920s and 1930s. The street is very well popular as the center of the Art Deco District which contains and preserved around 900 historic buildings. A brave lady named Barbara Baer was the one who fought for preserving the history of the Art Deco District.
Morning view of ocean drive
To witness the overwhelming morning beauty of Ocean drive, first of all, you need to sleep early to start early for the Ocean Drive. If you care to endeavor to glimpse the ocean drive in the early morning you will be able to witness a very different look of the area. The charismatic scenic beauty you will observe cannot be expressed in words. You can see the heavenly scenic sight of the sun rising on the beach. Most importantly, the blissful morning breeze of nature is sure to make you desire to have wings. Additionally, you can have a walk on the noiseless road and the beach as well which will make you feel fresh. The eye-dazzling and glittering morning beauty of Ocean Drive is a must-see while visiting Miami.
Nightlife & the view of ocean Drive
At night when the sun dusks, the streets of the ocean drive take a different look. There are lights everywhere on the streets which seems like any occasion is going on. Since the nightlife in Miami is much appealing to many people, the visitors of Miami should have a trip to the ocean drive at night. Moreover, audible live music on the restaurants and bars of the street of ocean drive will surely make the night more enjoyable to the visitors.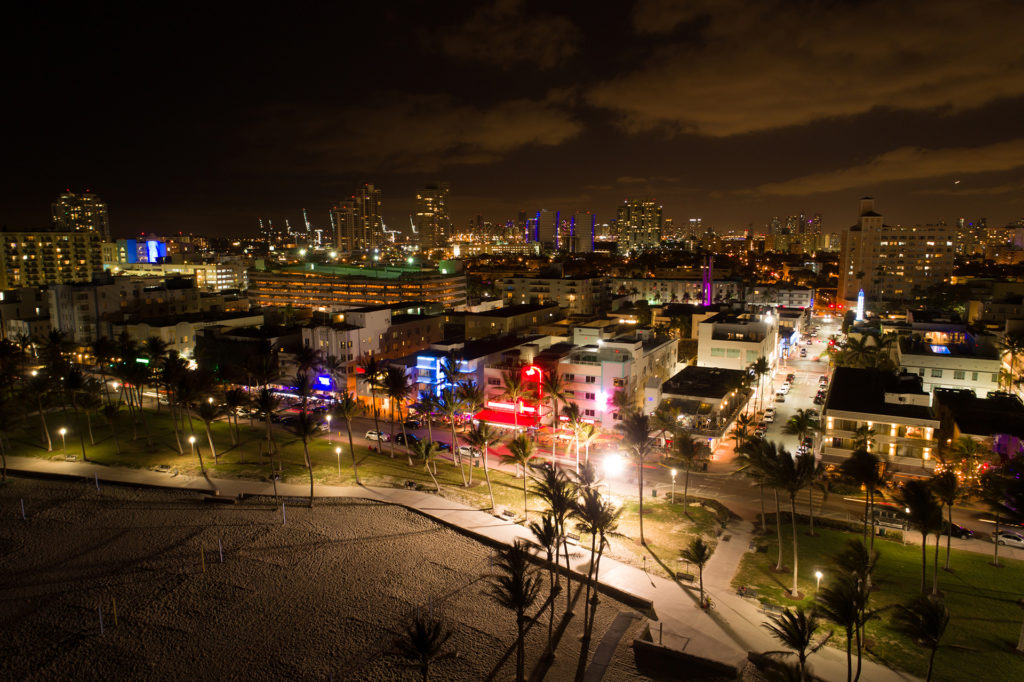 Things to do near ocean drive
Ocean drive is a very common tourist destination where there are a lot of things to do nearby the area. A shortlisted detail of things to do is given here to make your trip more pleasant and meaningful. Moreover, you can visit the Art Deco Welcome Center to start your day at Ocean Drive.
First of all, if you are an art lover, you can visit different art galleries and art museums which is a very short walking distance from the ocean drive. Around 2 to 5 minutes of walking distance, you will find a few art galleries and museums. You can visit ARTECHOUSE Miami, Art Deco Museum and World Erotic Art Museum which is around 8 minutes' walking distance.
Secondly, you can take an Art Deco Tour to see the architectural historic buildings. You will get different types of tours there.
Thirdly, you can go to different spas that are within a very short distance from the ocean drive.
Again, you can visit the beaches and spend some quality time with your friends and family. Additionally, you can do different beach activities.
Moreover, you can visit the 8th street designer district which is around 4 minutes walkable distance.
You can also visit different bars to have a good time.
You can rent a bike and have a city tour by yourself.
Finally, you can also visit Flagler Monument island and Miami beach welcome mural which is at a little bit distant from the ocean drive but still, a must-visit place.
Additionally, you can enjoy a south beach pool party at different places.
Where to Shop gift items
For some visitors, while traveling, shopping is a must-do thing. You will find a lot of gift shops and boutique stores almost everywhere on that street from where you can buy souvenirs and many more gift items for your family and friends. Additionally, you can also go to Collins avenue which is at a short distance from here for shopping. You can also go to Lincoln road. Moreover, there is no possibility of returning back to empty-handed.
Food corner
If you take a day-long tour to the Ocean drive, you can take brunch in different restaurants after finishing your morning tour. Front Porch Café, News Café, and many more restaurants are there to have Brunch. Moreover, ocean Drive has many award-winning restaurants from where you can get world-class food and almost all types of food whichever you want. Some of the restaurants are Santorini by Georgios, A Fish Called Avalon, Mango's Tropical Café and many more.
Beaches near ocean drive
South beach is the nearest beach from Ocean drive. You can have a great time there almost all the time of the day and especially in the morning and night. On South Beach, there is another beach named Nikki Beach which is called the hidden jewel of south beach. Additionally, there is another beach where you can spend some time is the muscle beach.
How to get there
To get there is quite easy and you can use a free trolley service if you stay at a distance from Ocean Drive. However, you can also use a taxi or uber which is a little bit expensive. After going there you can walk along the street to enjoy the beauty and do different activities. Moreover, by renting a bike you can enjoy your tour through the Ocean Drive.
Parking to stop for shopping and Dine
If you go there with your private vehicle you will feel the necessity of parking. However, you will get reasonable parking near Ocean Drive.
Lastly, Ocean Drive is mostly known for its Art Deco hotels and restaurants which were shown in many movies and different media activities as well. For all these reasons, Ocean Drive has become much popular among the tourists throughout the world.