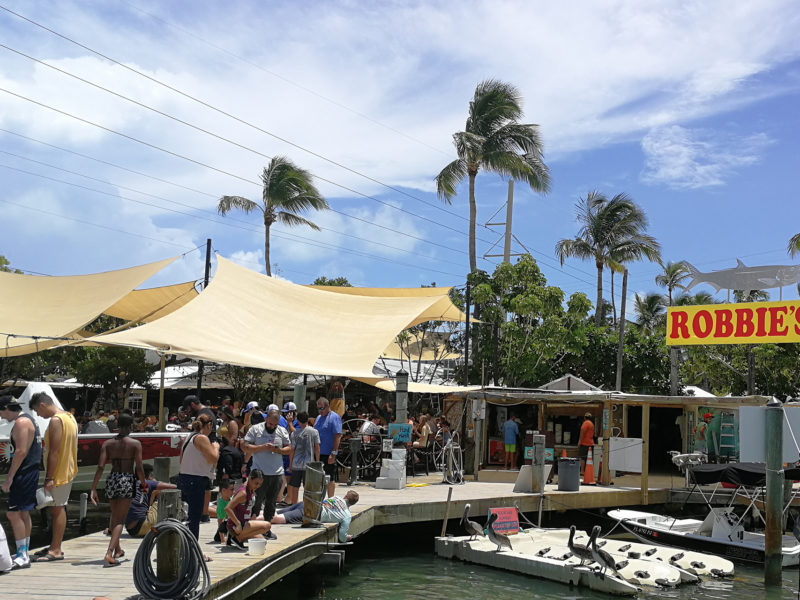 Robbie's Marina of Islamorada is an amazing site for recreation and fun activities. It is located at the Overseas Highway at Florida Keys, United States. It is not only a marina but a lot of activities are also offered which has turned Robbie's as one of the must-visit places of Florida. Here are a few activities for which you should not miss Robbie's.
Feed the tarpon: Everyone coming to Robbie's buy a bucket of fish and queue in the dock for their turn to feed the tarpon. It is a very exciting and fun-filled thing to feed the tarpon. The number of tarpons visit the dock every day and wait for the visitors to bait a fish. All on a sudden with a flash of speed tarpon jump up into the air and snatch the baitfish in a glimpse of eyes. However, the admission fee to enter into the dock area is 2.25 USD per person. Entrance more than once into the dock is limited to only one time per day. You can buy a bucket of fish at 4 USD. Each bucket may contain 5 to 8 fishes.
Jet – Ski Adventures: Love speed? Rush to the jet – ski point and get your ride around the Islamorada. There are two packages. It is safe and way too adventurous.
One Hour Package: You can hire a jet ski for one hour at 135 USD for 2 riders. In this package, you will be able to roam 14 to 24 miles into the deep sea.
Two Hour Package: This one is a popular one. You get to hire a jet ski for two hours at only 199 USD. Moreover, you will get to snorkel into the deep sea reefs at the sea for 30 minutes. However, riders also receive half-hour kayaking or paddle boating for free.

Snorkeling: There are two daily snorkeling excursions. One of them starts at 10:00 hrs up to 12:30 hrs and another at 13:30 up to 16:00 hrs. Thus, each of the excursions is scheduled for 2.5 hours. Additionally, there are sunset cruises on Wednesday, Friday, and Saturday. During the 2.5 hours, you will have the experience to swim along with the marine lives and explore the beauty in the deep sea. It is not only adventurous but also will give a brief idea about marine lives. You can bring your own snorkeling gears or you can buy it here at only 6 USD. The rate of snorkeling for adults is 36 USD and 29 USD for children aging from 5 up to 12. Children below 5 are free to snorkel.
Snuba Diving: Yes, you spelled it correctly. Robbie's offer you to go diving up to 20 feet deep under the sea level and explore the marine diversity. You do not need any certification unlike others as you will receive a brief lesson about personal safety and utilization of equipment. Swimming skill is mandatory. Children below 8 years are not allowed and medical issues may impose restrictions on a few unlucky ones. However, you have to book for it prior to the scheduled day and you can clear your medical-related queries prior to booking by calling at 305 – 664 – 9510.
Parasailing: One of the most dazzling activities to do in Robbie's is to parasail around the Florida Keys. Robbie offers you to have the experience of getting a glimpse of Florida from a bird's eye view. Parasailing starts at 09:00 hrs and continues up to 17:00 hrs. You can book it online prior to your planned day. Children under 6 years old are not allowed to parasailing.
Sunset Cruises: Robbie's offer you majestic cruises to watch the sunset in a spectacular sight. Sunset cruises are scheduled on Wednesday, Friday and Saturdays of each week. You can also buy champagne, wine or beer and enjoy the sunset like you never did before. Children and adults – both are allowed to an onboard and online booking is available. However, admission for a child is 29 USD and 42 USD for adults.
Kayaking and Paddling: Want to do kayaking? Robbie's offers you to throw yourself into the beauty of nature and wildlife. Set yourself up 2 to 3 hours before sunset and enjoy each moment with the blessings of nature. There are provisions for renting single or double kayak as per your requirement. Canoes and stand up paddle boats are also available to meet up your expectations. Booking packages are half-day and full-day rentals.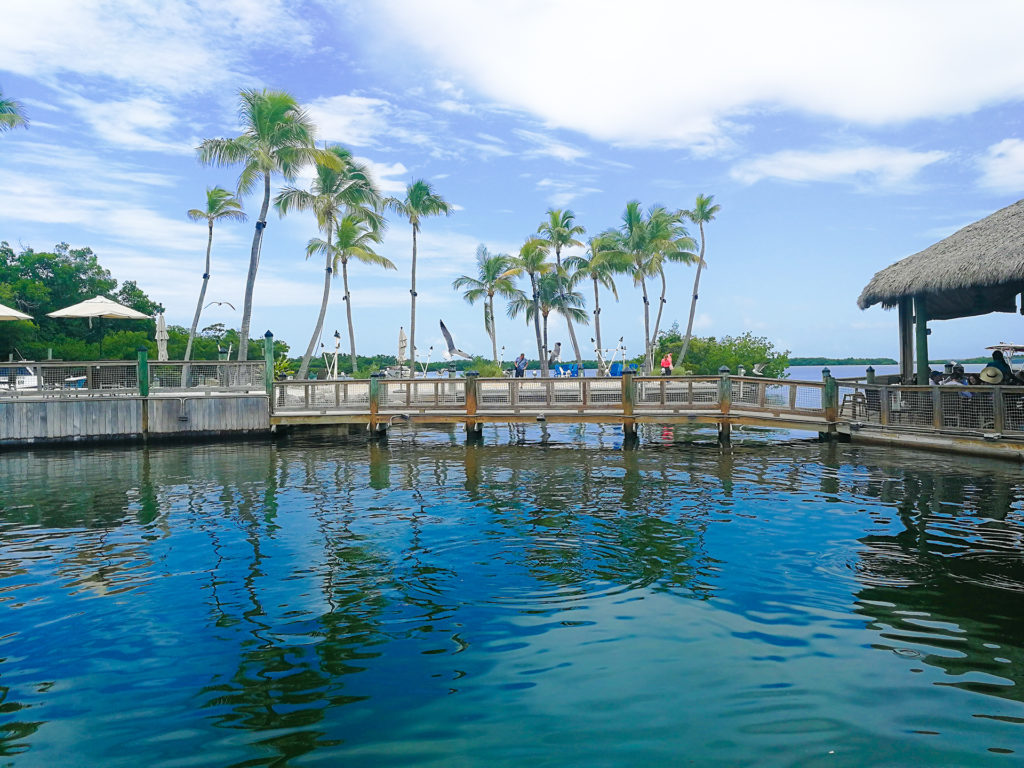 Restaurant and Bar
Whenever you feel hungry during the fun activities, pay your visit to the Hungry Tarpon Restaurant. Robbie's provides you the pleasure by catching fish and setting the catch up for a meal. Thirsty Harpon bar is there to fill you up with liquors and beer.
Shopping
Shop lovers will find it amazing in the open-air market. Jewelry, art, sunglass, hermit crabs and what not? You can buy men's, women's and children's items of clothing at surprisingly cheap rates. Not only these there are stalls for many home décor items that you cannot but take it to showcase at your residence, office, stalls, and shops.
As we said earlier, that it is not only a marina, we believe during your stay you will find it thrilling and exciting to get yourself introduced to these lot many activities.